Directe en snelle toegang tot BI & Analytics kennis
De BI & Analytics Guide™ geeft je directe toegang tot een grote hoeveelheid direct toepasbare kennis over BI, analytics, big data en kunstmatige intelligence (AI). Of je nu een BI tool of leverancier wilt selecteren, of je wilt alles leren over het vakgebied zelf, deze gids bespaart je veel tijd. Al het (uit)zoekwerk is al voor je gedaan: wij hebben de leveranciers "de maat genomen" en het complete vakgebied in kaart gebracht. Dit doen we vanuit een 100% onafhankelijk perspectief. Deze unieke gids is recent volledig geactualiseerd. Download direct de BI & Analytics Guide 2021.
Wat zijn de mogelijkheden van de BI & Analytics Guide?
De Business Intelligence & Analytics Guide is samengesteld door experts met meer dan 20 jaar ervaring in het vakgebied en is ontwikkeld voor de brede community van medewerkers, consultants en managers die zich (gaan) bezighouden met BI, AI & Analytics. De toepassingsmogelijkheden van deze gids zijn groot maar de twee meest voorkomende toepassingen van de BI & Analytics Guide zijn:
1. Maak razendsnel een long- en shortlist van leveranciers
Selecteer en beoordeel leverancier(s) die het beste aansluit(en) bij de requirements van jouw organisatie of project. Stel snel een shortlist op van leveranciers die voldoen aan jouw (knock-out) selectiecriteria. Gebruik tot wel 1.000 selectiecriteria met een gelaagde structuur en drill-down tot wel drie niveaus diep.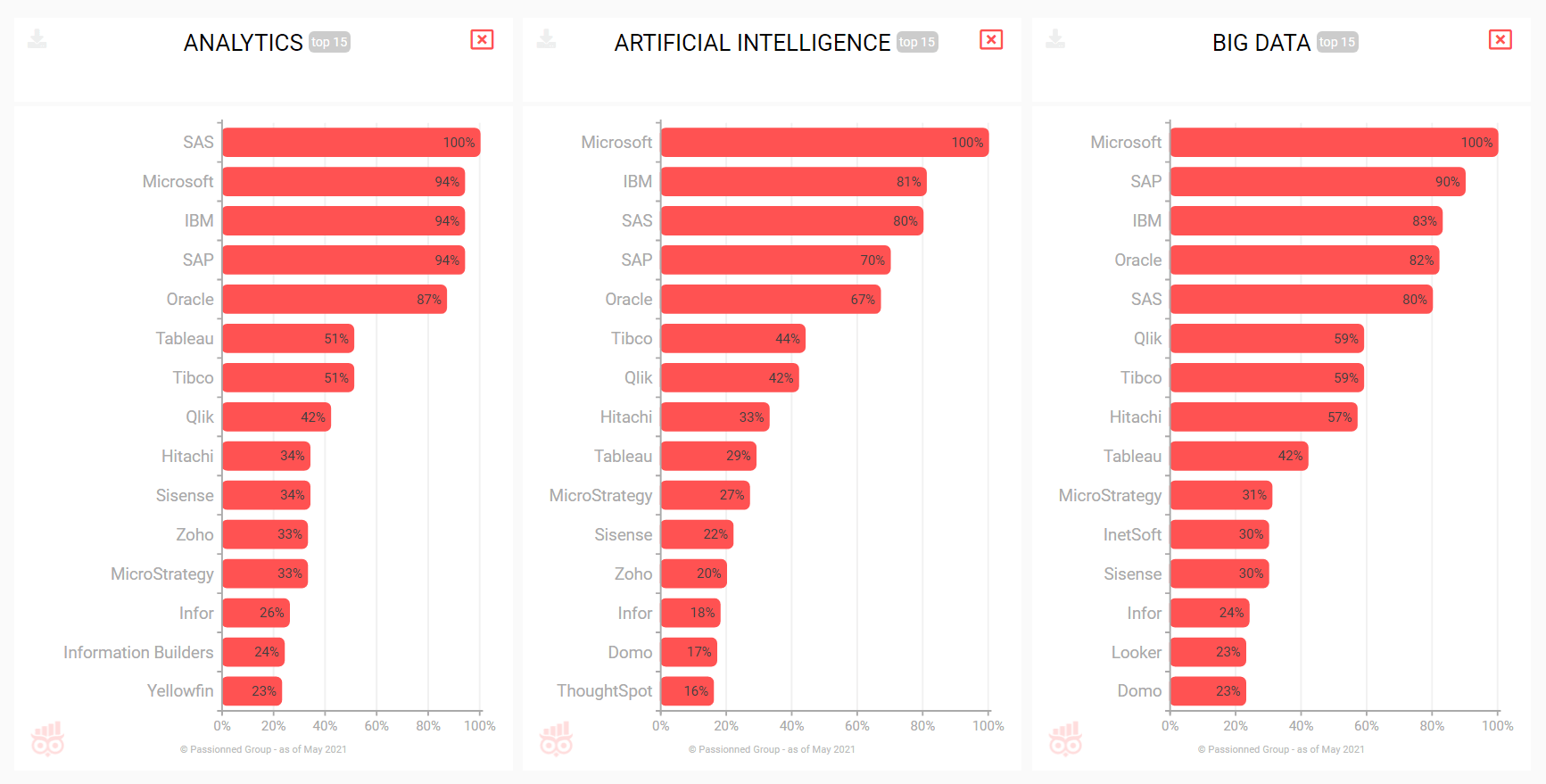 Figuur 1: In eerste instantie zie je op 15 hoofdcategorieën de ranking van de diverse leveranciers maar je kunt eenvoudig downdrillen en inzoomen op detailaspecten.
Zie in één oogopslag wat de sterkere en minder ontwikkelde kanten van de leveranciers zijn. Gebruik de self-service analyse module (optioneel bij te bestellen) waarmee je zelf kunt bepalen welke leveranciers je in het vizier wilt houden en welke onderwerpen en selectiecriteria jij belangrijk vindt. De BI & Analytics Guide gebruik je voor een objectieve leveranciersbeoordeling, in aanloop naar een RFP-traject, een toolselectie of ter voorbereiding op een presentatie. Alle grafieken uit onze gids kun je in een handomdraai en kosteloos gebruiken in je presentatie, tweet of post.
De BI & Analytics Guide heb ik ervaren als een spannende ontdekkingsreis in BI-land. De gids bevat oneindig veel detailinformatie. In mijn werk heb ik de beoordelingen voor meerdere softwareoplossingen vergeleken op basis van meer dan 350 verschillende kenmerken. In deze gids zijn ook links opgenomen naar andere openbare bronnen die je in staat stellen dieper te graven op zoek naar de juiste oplossing. Hierdoor verslaat deze gids met gemak de favoriete zoekmachineresultaten die je normaliter op internet krijgt voorgeschoteld. En dat allemaal verpakt in een eenvoudige webinterface. De waarde van deze gids overtrof ruimschoots mijn verwachtingen en leidde tot een verrassende conclusie. – Tom Cole, Director BI & Data Visualization bij Nike
2. Verbreed, verfijn en verdiep je kennis met online trainingen
Verbreed en verdiep laagdrempelig je vakkennis met behulp van honderden (kortere) trainingen, tech talks, colleges, demo's, tutorials, enzovoorts. Blijf op de hoogte van het dagelijkse nieuws binnen het vakgebied BI, AI & Analytics en de markt. Bekwaam je in alle relevante definities en begrippen en benut de waardevolle inzichten uit de omvangrijke videobibliotheek. Volg bijvoorbeeld een mini-college over deep learning van de wereldwijde expert op dit terrein.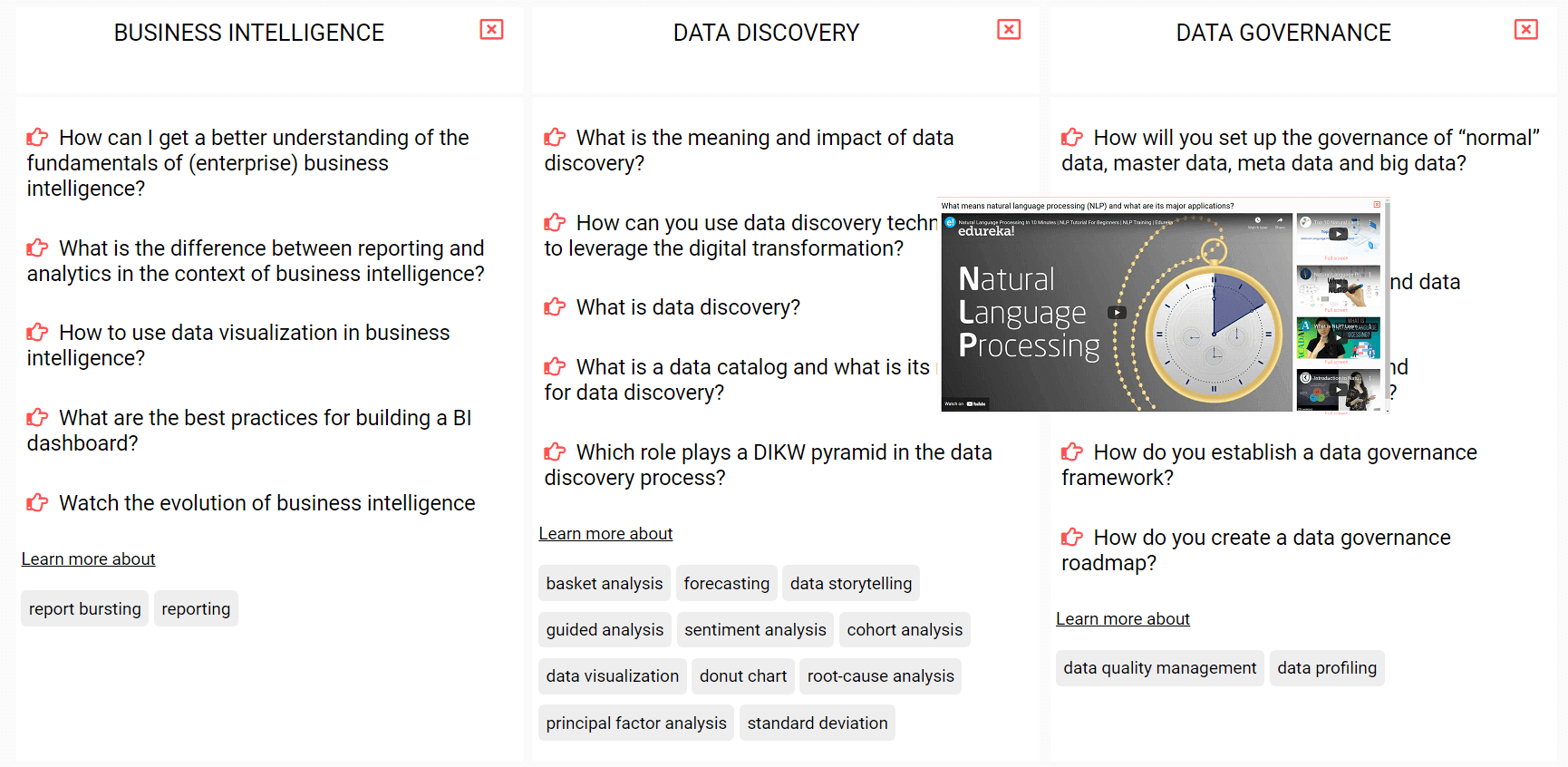 Figuur 2: De trainingsmodule bevat meer dan 500 video's en helpt je je kennis van het vakgebied te verdiepen en te verbreden.
Doorgrond de finesses van analytics, reporting, dashboarding, analyse, auto-machine learning (AutoML), AI bots, self-service data discovery, Google Bigquery, Tensorflow, contextual data mining, DAX, datawarehousing en cloud computing. Leer hoe je een goede datavisualisatie maakt. Al deze toepassingen hebben wij in één gebruiksvriendelijke, strak vormgegeven gids bij elkaar gebracht zodat je je werk sneller kan uitvoeren en effectiever je collega's of klanten kan adviseren.
De onderwerpen uit deze unieke gids: selectiecriteria
De volgende hoofdonderwerpen zijn opgenomen in de online BI & Analytics Guide. Elk hoofdonderwerp bevat ook een groot aantal subonderwerpen.
✪
Data-integratie (ETL)
✪
Data lakes (data marts)
✪
Data storytelling
✪
Datavirtualisatie
✪
Deep learning
✪
Infrastructuur & cloud
✪
In-memory BI
✪
Internet of Things (IoT)
✪
Machine learning
✪
Mobile BI
✪
Reporting & analyse
✪
Multidimensionale modellen
✪
Neurale netwerken
✪
Performance optimalisatie
✪
Performance management
✪
Real-time mogelijkheden
✪
Root cause analysis
✪
Self-service functionaliteit
✪
Statistische analyse
✪
Ster- en sneeuwvlokschema's
Dit is slechts een greep uit het grote leerpotentieel van onze BI & Analytics Guide: je raakt niet snel uitgeleerd. Daarnaast ga je ervaren hoe de markt in elkaar steekt, welke leveranciers actief zijn en wat hun sterktes en zwaktes zijn. Haal een maximaal rendement uit de BI & Analytics Guide. Download hem vandaag nog.
De leveranciers en hun productportfolio
De BI & Analytics Guide 2021 bevat (op dit moment) materiaal van alle belangrijke BI tool leveranciers met al hun relevante producten. Zo heeft bijvoorbeeld alleen al Microsoft meer dan dertig BI producten en sommige andere leveranciers doen daar niet voor onder. Je leert ze allemaal kennen. Staat jouw leverancier er niet bij? Op aanvraag voegen we een relevante leverancier voor je toe.
✪
Board
Board Platform - Board Decision - Making Platform - Board Business Intelligence - Board Financial Consolidation - Board Fashion Retail Planning - Board Financial Planning - Board Retail Planning - Board Portal - Board Cloud System - Board Financial Reporting - Board Cloud Data Pipeline
✪
datapine
✪
Domo
Domo Platform - Domo Business Cloud - Domo Data Science - Domo Business Intelligence - Domo Data Visualization - Domo Business Optimization - Domo Business Automation
✪
Dundas
Dundas BI - Dundas Data Visualization - Dundas Dashboard - Dundas BI Data Flow
✪
GoodData
✪
Hitachi
Pentaho Data Integration - Pentaho Business Analytics - Pentaho Data Mining - Hitachi Content Platform - Pentaho Report Designer - Pentaho Big Data - Pentaho Kettle - Hitachi Video Analytics - Hitachi Data Center Analytics - Pentaho Analytics - Pentaho CDE - Pentaho BI Server - Lumada Edge Intelligence - Lumada Data Services - Pentaho Data Science Pack - Pentaho Sever - Pentaho Dashboard Designer - PDI Community Edition - Pentaho Business Analytics Server - Pentaho Design Studio
✪
IBM
Cognos Analytics - IBM Watson - IBM Infosphere - IBM SPSS - Netezza - IBM Cloud Pak - IBM Planning Analytics - IBM Cognos TM1 - IBM SPSS Statistics - IBM Business Analytics - IBM SPSS Modeler - IBM BigInsights - IBM Infosphere Information Server - Netezza Performance Server - IBM Cognos Analysis - IBM Cognos Real - time - IBM Cognos Real - time Monitoring - Cognos Cube Designer - IBM Cognos Analysis Studio - DB2 OLAP Server - IBM SPSS Text Analytics - IBM Infosphere Information Analyzer - IBM SPSS Predictive Analytics - IBM Banking Data Warehouse - Watson Natural Language Processing - IBM Cognos TM1 Server - IBM Video Analytics - IBM SPSS Modeler Server
✪
InetSoft
InetSoft Style Intelligence - InetSoft Business Intelligence - InetSoft Data Intelligence - InetSoft Style Studio - InetSoft Data Cleansing
✪
Infor
Infor Coleman - Infor Birst - Infor BI - Infor Landmark - Infor Coleman AI - Infor Data Lake - Infor Landmark Reporting - Birst Analytics - Infor IoT - Birst Sales Analytics - Infor Business Vault - Infor BI Dashboards - Infor Business Analytics - Infor Corporate Performance Management
✪
Information Builders
WebFOCUS - WebFOCUS BI - WebFOCUS Designer - WebFOCUS BI Portal
✪
Logi Analytics
Logi Info - Logi Composer - Logi Report Server - Logi Predict - Logi Report Designer - Logi Analytics Platform
✪
Looker
LookML - Looker API - LookML Dashboards - Looker Platform - Looker Blocks - Looker Server - Looker Data Analytics - Looker Retail - Looker Embedded Analytics - Looker Data Modeling - Looker Marketing Analytics - Looker Web Analytics - Looker Digital Marketing
✪
Microsoft
Power BI - Microsoft Azure - Azure Stream Analytics - Azure Synapse Analytics - Microsoft SQL Server - Azure Databricks - Azure Cognitive Services - Azure Machine Learning - Power BI Desktop - Azure Data Lake - SSAS - SSIS - Azure Data Factory - SQL Server Reporting Services - Power BI Premium - Microsoft AI - Power BI Report Server - SQL Server Management Studio - Azure IoT Hub - Azure Machine Learning Studio - Azure Data Studio - Microsoft Business Intelligence - Microsoft Power Query - Power BI Report Builder - SQL Server Machine Learning - Azure Data Warehouse - Microsoft R Server - Microsoft Machine Learning - Azure Storage Explorer - Microsoft Advanced Threat Analytics - Microsoft AI Platform - SQL Server Data Mining - Microsoft Machine Learning Server - Microsoft Data Platform - Azure Advanced Analytics - Microsoft Flow Analytics - Microsoft Power BI Pro - Databricks Delta Lake - Microsoft Power BI Enterprise
✪
MicroStrategy
MicroStrategy Web - MicroStrategy Platform - MicroStrategy Analytics - MicroStrategy Intelligence Server - MicroStrategy Desktop - Hyperintelligence - MicroStrategy Business Intelligence - MicroStrategy Office - MicroStrategy Report Services - MicroStrategy Dossier - MicroStrategy Cloud Platform - MicroStrategy Business Intelligence Platform - MicroStrategy Hadoop Gateway - MicroStrategy Rest APIs - MicroStrategy Embedded Analytics - MicroStrategy Prime - MicroStrategy R Integration Pack - MicroStrategy Data Mining - MicroStrategy Big Data - MicroStrategy Web Report - MicroStrategy Web Report Editor - MicroStrategy Mobile Analytics - MicroStrategy Data Integration - MicroStrategy Federated Analytics
✪
Oracle
Oracle Database - OBIEE - Oracle Analytics - Oracle Big Data - Oracle Fusion Middleware - Oracle Data Integrator - Oracle Essbase - Oracle Hyperion - Oracle Analytics Server - Oracle Exadata - Oracle Big Data Appliance - Siebel Analytics - Oracle Business Intelligence Applications - Oracle Business Intelligence Publisher - Oracle Stream Analytics - Oracle Big Data Connectors - Oracle Data Mining - Oracle Exalytics - Oracle OLAP - Oracle NoSQL Database - Oracle Big Data Discovery - Oracle Data Integration - Oracle Analytics Desktop - Oracle Data Miner - Oracle Warehouse Builder - Oracle R Enterprise - Oracle Enterprise Data Quality - Oracle Data Science - Oracle TimesTen - Oracle Smart View - Oracle Big Data Lite - Oracle Endeca - Oracle Fusion Analytics - Oracle Financial Consolidation - Oracle Retail Analytics - Essbase Studio - Oracle Flexcube Universal Banking - Oracle Data Management - Oracle Financial Management Analytics - Oracle Data Warehouse - Oracle Insurance Insight - Oracle AI Platform - Ohi Data Marts - Oracle Data Hub - Oracle Health Insurance Analytics - Oracle BDA - Oracle DRM - Oracle Data Visualisation - Oracle Supply Chain Analytics - Oracle Fusion Customer Relationship Management - Oracle Data Profiling - Oracle Data Quality Management - Oracle Endeca Studio - Oracle Bis Discoverer - Obi Analytics - Siebel TimesTen - Oracle Data Modeling
✪
Qlik
Qlik Sense - QlikView - Qlik Sense Enterprise - Qlik Replicate - Qlik NPrinting - QlikView Server - Qlik Sense Desktop - Qlik Compose - Qlik Geoanalytics - Qlik Sense Server - Qlik Analytics - Qlik Data Integration - Qlik Associative Engine - QlikView Desktop - Qlik Data Catalyst - Qlik Analytics Platform - Qlik Data Integration Platform - Qlik Sense Apps - Qlik Sense Engine - Qlik Enterprise Manager - Qlik Big Data - Qlik Datamarket - QlikView Expressor - Qlik Geoanalytics Connector - Qlik Data Warehouse - Qlik SAP Analytics
✪
SAP
SAP HANA - SAP Analytics - SAP BusinessObjects - SAP Analytics Cloud - SAP BW - SAP Lumira - SAP Cloud Platform - SAP Businessobjects BI - Sybase - SAP Conversational AI - SAP Predictive Analytics - SAP Data Services - Xcelsius - SAP Data Warehouse - SAP Data Hub - SAP Crystal Reports - SAP NetWeaver Business Intelligence - SQL Anywhere - Fiori Launchpad - SAP HANA Streaming Analytics - SAP BusinessObjects Analysis - SAP IQ - SAP Analytics Hub - S/4HANA Embedded Analytics - SAP BusinessObjects Dashboards - SAP BusinessObjects Web Intelligence - SAP Web Analytics - SAP Crystal Server - SAP NetWeaver Business Warehouse - SAP BusinessObjects Predictive Analytics - Lumira Cloud - SAP Big Data - SAP Businessobjects BI Platform - SAP Mobile BI - SAP Leonardo IoT - SAP Leonardo Machine Learning - SAP Lumira Designer - SAP BI Platform - SAP Agile Data Preparation - SAP Businessobjects Design Studio - SAP BEx - SAP HANA Data Warehousing - SAP BusinessObjects Data Services - Native Spark Modeling - SAP Insurance Analyzer - SAP Lumira Server - SAP BI Mobile Server - Rapid Marts - SAP Data Quality Management - SAP Master Data Management - SAP Sybase Replication Server - SAP HANA Enterprise - SAP Machine Learning - SAP Analytics Designer - SAP Data Management - SAP HANA Advanced Analytics - SAP Businessobjects Financial Consolidation - SAP BusinessObjects Analysis Office - SAP BusinessObjects Enterprise BI - SAP Sybase Adaptive Server - SAP Data Science - SAP Enterprise Analytics - SAP BussinessObjects Edge - SAP Enterprise Data Management - SAP Businessobjects Dashboard Design - SAP HANA Text Analytics - Bpmon Analytics
✪
SAS
SAS Viya - SAS Visual Analytics - SAS/ACCESS - SAS Enterprise Guide - SAS Enterprise Miner - SAS Event Stream Processing - Dataflux - SAS Visual Data Mining - SAS Data Integration - SAS Data Integration Studio - SAS Customer Intelligence - SAS Cloud Analytic Services - SAS Cloud Analytic - SAS Visual Statistics - SAS BI Dashboard - SAS Data Quality - SAS Visual Text Analytics - SAS Mobile BI - SAS Web Report Studio - SAS Data Management - SAS Field Quality Analytics - Dataflux Data Management Studio - SAS Enterprise BI - SAS LASR Analytic Server - SAS Forecasting - SAS Data Loader - SAS Forecast Server - SAS Web Analytics - SAS Visual Forecasting - SAS Business Rules Manager - SAS Grid Manager - SAS Text Miner - SAS Visual Analytics App - SAS Data Preparation - SAS Intelligent Decisioning - SAS Enterprise BI Server - SAS Asset Performance Analytics - SAS Business Analytics - SAS Data Science - SAS Web Server - SAS OLAP Server - SAS OLAP Cubes - SAS Deep Learning - SAS Forecast Analyst Workbench - SAS Fraud Framework - SAS OLAP Cube Studio - SAS Visual Analytics Designer - SAS Visual Investigator - SAS Forecast Studio - SAS Marketing Automation - SAS Customer Analytics - SAS MDM - SAS Energy Forecasting - Information Map Studio - SAS Office Analytics - SAS Federation Server - SAS Information Delivery Portal - Dataflux Data Management Server - SAS Real - time Decision Manager - SAS Analytics Platform - SAS Text Analytics - SAS Data Explorer - SAS Big Data - SAS Advanced Analytics - SAS Production Quality Analytics - SAS Risk Modeling - SAS High - Performance Forecasting - SAS Data Governance - SAS Visual Analytics Hub - SAS Data Quality Server - SAS Visual Data Discovery - SAS Data Surveyor - SAS Banking Analytics - SAS Machine Learning - SAS Sentiment Analysis Studio - SAS Business Intelligence Platform - SAS ETL Studio - SAS Data Warehouse - Dataflux Authentication Server - SAS Artificial Intelligence - SAS Viya Visual Analytics - SAS Predictive Analytics - SAS Master Data Management - SAS Federal Data Management - SAS Data Surveyor SAP - SAS Omnichannel Analytics - SAS Natural Language Processing - SAS Data Integration Server - SAS Visual Data Governance
✪
Sisense
Elasticube - Elasticube Manager - Sisense BI - Sisense ElastiCube - Sisense Analytics - Sisense Blox - Sisense Dashboards - Sisense Pulse - Sisense REST API - Sisense Platform - Sisense AI - Sisense Forecast - Sisense Embedded Analytics - Sisense Mobile BI - Sisense Self - Service - Sisense Elastic Data Hub - Sisense Self - Service Analytics - Sisense Big Data - Sisense Healthcare Analytics - Sisense Predictive Analytics - Sisense Data Mining - Sisense Retail Analytics - Sisense Periscope - Sisense Data Engineering
✪
Tableau
Tableau Server - Tableau Desktop - Tableau Public - Tableau Online - Hyper API - Tableau Prep Builder - Tableau Data Management - Tableau Prep Conductor - Tableau Bridge - Tableau Hyper - Tableau Reader - Tableau Server Management Add - on - Tableau Server REST API - Tableau Embedded Analytics - Tableau Data Management Add - on - Tableau Cloud - Tableau Advanced Analytics - Tableau In - memory Data Engine - Tableau Business Intelligence - Tableau Predictive Analytics
✪
ThoughtSpot
SpotIQ - ThoughtSpot Embrace - ThoughtSpot Business Intelligence
✪
TIBCO
TIBCO Spotfire - TIBCO Analytics - TIBCO Data Science - TIBCO Data Virtualization - TIBCO Streambase - Jasperreports - TIBCO Jaspersoft - TIBCO Businessworks - TIBCO Streaming - TIBCO MDM - TIBCO Spotfire Server - TIBCO Messaging - TIBCO Business Studio - TIBCO Mashery - TIBCO Spotfire Analyst - TIBCO Cloud Spotfire - TIBCO Data Quality - TIBCO Loglogic - TIBCO MFT - TIBCO Geoanalytics - TIBCO Live Datamart - TIBCO Enterprise Message Service - TIBCO Administrator - TIBCO Businessworks Container Edition - TIBCO Jasperreports Server - TIBCO Spotfire Desktop - TIBCO Hawk - TIBCO Cloud Mashery - Spotfire Data Catalog - TIBCO Openspirit - TIBCO Liveview - TIBCO Datasynapse Gridserver - TIBCO Spotfire Lead Discovery - TIBCO Gridserver - TIBCO Spotfire Clinical Graphics - TIBCO Spotfire Miner - TIBCO Spotfire Operations Analytics - TIBCO Spotfire Network Analytics - Businessevents Data Modeling - TIBCO Data Management - IoT Drilling Accelerator - TIBCO Data Discovery - TIBCO Data Integration - TIBCO Datagrid Cache
✪
Yellowfin
Yellowfin Suite - Yellowfin Signals - Yellowfin Data Transformation - Yellowfin Dashboards - Yellowfin SAML Bridge - Yellowfin Mobile BI - Yellowfin Data Discovery - Yellowfin Business Analytics - Yellowfin Data Science - Yellowfin Web Server - Yellowfin Data Analysis
✪
Zoho
Zoho Analytics - Zia - Zoho Databridge - Zoho Analytics Server - Zoho Analytics Mobile BI app
Met de radargrafieken kun je in één oogopslag een BI-leverancier vergelijken met alle andere leveranciers en zo krijg je een evenwichtig beeld van de functionaliteit en de sterke en zwakke kanten van een leverancier.


Figuur 3: Radargrafieken leggen de sterktes en zwaktes van de diverse leveranciers feilloos bloot.
Daarnaast bevat de BI & Analytics Guide ook lijngrafieken die de resultaten van leveranciers over de tijd heen visualiseren. Zo krijg je ook direct inzicht hoe snel of langzaam een leverancier zich ontwikkelt. De BI & Analytics Guide werkt op elk device en is opgedeeld in vier praktische hoofdstukken (modules). Je krijgt per licentie toegang op drie verschillende devices. Wil je met meer mensen gebruikmaken van deze gids, dan pas je dat heel makkelijk online aan.
De 5 belangrijkste voordelen van deze gids op een rij
100% onafhankelijk en objectief, we hebben geen banden met de leveranciers
geef je Business Intelligence expertise en kennis in enkele dagen een flinke boost
interactief en strak vormgegeven, gebruiksvriendelijke bediening, geen manual nodig
gebruiksrecht van maar liefst 365 dagen op tenminste drie devices (gelijktijdig)
bespaar jezelf veel tijd, energie en kosten, versterk je onderhandelingspositie
Download hier de BI & Analytics Guide 2021
De BI & Analytics Guide is de eerste digitale gids die voor 100 procent is gebaseerd op geobjectiveerde data en volledig vrij van vooroordelen. Probeer het uit: voor een introductieprijs van slechts 199 euro (exclusief btw) zit je voortaan op de eerste rij, download hier deze unieke gids.