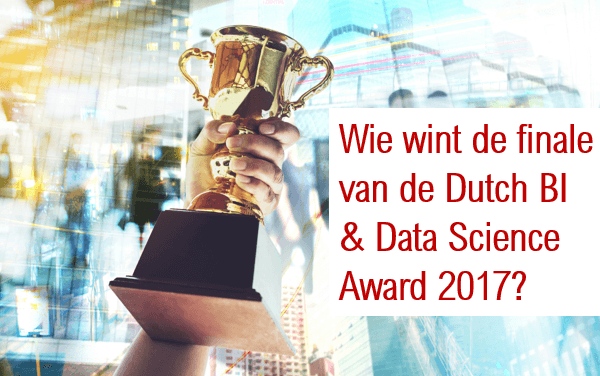 3 finalisten strijden om de titel: Slimste organisatie 2017
Spoorbeheerder ProRail, het Kadaster en International Bike Group (fietsenwinkel.nl) zijn de finalisten voor de Dutch BI & Data Science Award. Op 7 december strijden ze om de titel Slimste Organisatie van Nederland 2017.
De jury van de Dutch BI & Data Science Award koos deze finalisten na een besloten auditie waar zes geselecteerde organisaties zich mochten presenteren. Tijdens het congres 'Intelligence at the speed of Business' op 7 december in Nieuwegein zullen de finalisten proberen het publiek en vooral de jury te overtuigen dat ze recht hebben op de BI & Data Science Award 2017.
ProRail
Het is volgens de jury indrukwekkend om te zien hoe ProRail experimenteert met data om spoorvertragingen tegen te gaan. Het bedrijf zit op bergen aan interessante data die wordt ingezet om de reiziger beter van dienst te zijn. Door slim gebruik te maken van nieuwe technologie zoals sensoren ziet de organisatie kans heel concrete en praktische problemen op te lossen. Zo realiseert ProRail een steeds grotere beschikbaarheid van het spoorwegnet door datagedreven aan storingspreventie te werken.
Kadaster
Dit is een klassieke organisatie die moderne techniek omarmt en daarmee voorkomt dat ze overbodig wordt, aldus de jury. Het Kadaster vindt zich opnieuw uit met data. Zo ziet de organisatie kans om zeer up-to-date kaarten te publiceren dan wel real time geografische informatie beschikbaar te stellen; een randvoorwaarde om veilig te kunnen werken in het dichtstbevolkte land van Europa. Het Kadaster helpt via zeer gedetailleerde datasets overheden en bedrijven grip te behouden op hun omgeving.
Fietsenwinkel.nl
De jury vindt dat het tot de verbeelding spreekt hoe een jong team door intelligent gebruik van data een klassieke bedrijfstak verandert. International Bike Group laat met Fietsenwinkel.nl zien hoe je door een heel sterke focus op data en online disruptie kunt veroorzaken in een bestaande branche en heel snel kunt groeien. Alle processen zijn in kaart gebracht en worden gemonitord met Business Intelligence (BI). Er is een overzichtelijke aantal scherpzinnige KPI's geformuleerd die aangeven of de business goed draait. KPI's die via feedback-mechanismen ook automatisch stuurbeslissingen genereren of voorstellen.
Selectie
De selectie voor deze prestigieuze prijs begon met een zogenoemde organisatie-IQ-test die door de kandidaten moest worden ingevuld en met een schriftelijke motivatie. Uit enkele tientallen aanmeldingen selecteerde de onafhankelijke vakjury zes organisaties die werden uitgenodigd voor een besloten auditie op maandag 9 oktober in Amersfoort. Daaruit werden vervolgens de drie finalisten gekozen.
Intelligente organisaties
Passionned Group is sinds 2004 specialist in het ontwerpen en implementeren van intelligente organisaties. Het is een onafhankelijk adviesbureau op het gebied van datagedreven werken, data science, big data en business intelligence. Ruim 25 'slimmer-werken-adviseurs' helpen grote en kleine organisaties bij het kantelen naar een intelligente organisatie. Daarnaast is er de Passionned Academy met verschillende praktijkgerichte opleidingen en workshops en een kennisbank met diverse onderzoeken, boeken, artikelen en whitepapers.