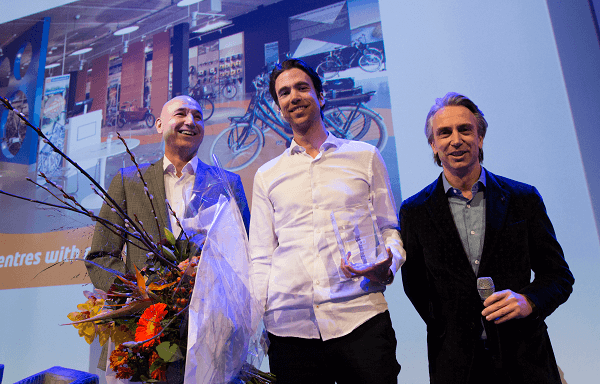 CFO Davy Louwers van Fietsenwinkel.nl (midden) ontvangt de Dutch BI & Data Science Award uit handen van juryvoorzitter Menno Lanting (rechts) en initiatiefnemer Daan van Beek van Passionned Group. (Foto Serge Ligtenberg)
Fietsenwinkel.nl verslaat ProRail en Het Kadaster in de finale
International Bike Group (Fietsenwinkel.nl) is op donderdag 7 december gekozen tot de Slimste Organisatie van Nederland. De vakjury had tijdens de finale van de Dutch BI & Data Science Award de keuze tussen ProRail, het Kadaster en International Bike Group.
De jury van de Dutch BI & Data Science Award maakte zijn definitieve keuze bekend tijdens het congres 'Intelligence at the speed of Business' op 7 december in Nieuwegein.
Disruptie
De jury vindt dat het tot de verbeelding spreekt hoe een jong team door intelligent gebruik van data een klassieke bedrijfstak verandert. International Bike Group laat met Fietsenwinkel.nl zien hoe je door een heel sterke focus op data en online disruptie kunt veroorzaken in een bestaande branche en heel snel kunt groeien. Alle processen zijn in kaart gebracht en worden gemonitord met Business Intelligence (BI). Er is een overzichtelijk aantal scherpzinnige KPI's geformuleerd die aangeven of de business goed draait. KPI's die via feedback-mechanismen ook automatisch stuurbeslissingen genereren of voorstellen.
De publieksprijs van de Dutch BI & Data Science Award 2017 ging ook naar Fietsenwinkel.nl. De winnaar werd gekozen uit de drie finalisten via een online poll en een stemming onder de bezoekers van het congres. In totaal ruim 4200 stemmen.
Overeenkomst: voorspellen met data
De drie finalisten hadden gemeen dat ze data centraal stellen in hun proces en hier voorspellende elementen aan hebben toegevoegd. Zo simuleert het Kadaster op basis van een model waar straten blank komen te staan wanneer een forse hoosbui over een stad trekt, experimenteert ProRail met algoritmes om spoorlopers te voorspellen en weet fietsenwinkel.nl op basis van tal van bronnen te voorspellen welke fiets op welk moment het beste verkoopt.
Voor de jury is doorslaggevend geweest dat de organisatie aantoonbaar data inzet voor continu verbeteren en innovatie en dat dit bedrijfsbreed is geïmplementeerd. En nog belangrijker, dat hierdoor daadwerkelijk de resultaten zijn verbeterd en een continue groei heeft ingezet.
Selectie
De selectie voor deze prestigieuze prijs begon met een zogenoemde organisatie-IQ-test die door de kandidaten moest worden ingevuld en met een schriftelijke motivatie. Uit enkele tientallen aanmeldingen selecteerde de onafhankelijke vakjury zes organisaties die werden uitgenodigd voor een besloten auditie. Daaruit werden vervolgens de drie finalisten gekozen.
Tiende editie
De Dutch BI & Data Science Award wordt al sinds 2004 uitgereikt. Dit was de tiende editie. Eerdere winnaars waren onder meer KPN Mobiel (2005), Ahold (2008), Diakonessenhuis (2009), Coolblue (2012), Brandweer Amsterdam-Amstelland (2013) en Veiligheidsregio NHN (2015).
De prijs is een initiatief van de Passionned Group en kwam voort uit de verschijning van het bekende BI-boek De Intelligente Organisatie van Daan van Beek. De award is bedoeld als een erkenning voor organisaties die hun informatiehuishouding op een zeer innovatieve, slimme en opvallende manier hebben ingericht. De winnaar mag zich de 'Slimste organisatie van Nederland' noemen.
Intelligente organisaties
Passionned Group is sinds 2004 specialist in het ontwerpen en implementeren van intelligente organisaties. Het is een onafhankelijk adviesbureau op het gebied van datagedreven werken, datascience, big data en business intelligence. Ruim 25 'slimmer-werken-adviseurs' helpen grote en kleine organisaties bij het kantelen naar een intelligente organisatie. Daarnaast is er de Passionned Academy met verschillende praktijkgerichte opleidingen en workshops en een kennisbank met diverse onderzoeken, boeken, artikelen en whitepapers.